Hi, I'm Michelle. 
I'm an international career coach and speaker. I help ambitious women of color transition into fulfilling and profitable careers in tech.
Changing the face of tech – one woman of color at a time
  I see you #superwoc:
You have accomplished amazing things in your field – but when it comes to transitioning into the tech industry you feel the lack of "tech" experience is real.
Deep down, you know you have what it takes to transition into a fulfilling and profitable career in tech – but you keep hearing crickets after sending resumes and you're starting to think this might not be the field for you.
You have unique gifts and experiences – but you still feel you need something outside of you (more certifications, more education, etc)  to make your dream tech career a reality.
I know what you're going through because not too long ago I was in your shoes…
Just like you:
I felt as a first-gen, woman of color – there wasn't a seat for me in tech.
I thought my non-technical background was holding me back from getting into my dream company.
I needed to become "more technical" – and start from scratch.
In my job search, I was trying all the cookie-cutter advice:
Rewriting my resume and applying online to all the roles I found.
Chasing after recruiters.
Focusing on "gathering" info and taking a bunch of classes online.
Nothing I tried was working, so I started making every failure mean something about my ability to thrive in my career.
It wasn't until I shifted my perception of this career transition along with my strategy – that I started seeing momentum.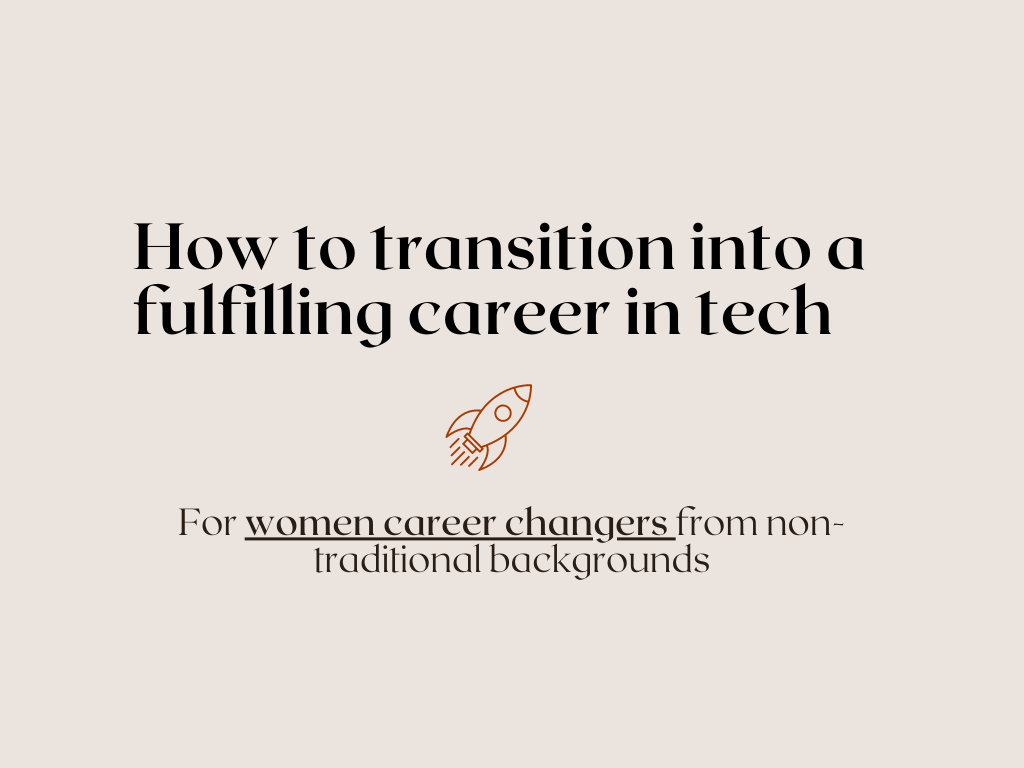 Andrea T . - Program Manager @Amazon
"After months of applying online and getting rejected, working with Michelle got me to the final interview with a major tech company. Through her help to update my Linkedin Profile, I was also able to secure a full-time position with one of the largest tech companies in the world."
Rebecca A. - Program Manager @AWS
"Michelle helped get clarity and with her guidance, I was able to make my experience relate to roles I was applying to and really diving into my STAR responses in making sure my experience aligned."
Nazin B. - UX Leader
" One of the biggest learnings was how to tell my unique story over LinkedIn. Learn how to continue to reinforce that my unique story through my messaging in my posts. Michelle has helped me push myself beyond my biggest block which is myself and my imposter syndrome."
Vanessa R. - Product @Expedia
"It was so easy to work with Michelle. She sorta demystified my idea of a career coach and of what Linkedin was. I loved working with her and recommend her to friends any chance I get."
Jessica P. - Program Manager
"Michelle has been a wonderful supporter and coach to me during my career transition from government to tech. She flawlessly mixes optimism and strategy, giving me more confidence in the direction I moved in with the tools to ensure success along the way. She helped me draw out my strengths, gain clarity on the career paths I wanted to pursue next, and tell my stories in a compelling way. She's one of the first people I go to in order to celebrate wins and to strategize around setbacks. I'm thankful to have her in my corner and highly recommend her."